2 minute read
Now you know why you are using Tricent. Let's then look at how. Below we'll run through the basics of the Tricent notification email and get you comfortable with the experience.
Email notifications when shares are about to expire
Your organization's administrators have configured the so-called cleanup cycle to ensure that files shared outside your organization are not shared forever.
If a cycle is set to have you review your shared files every, say 60 days, you'll be notified and asked to check if the sharing is still needed when you approach that deadline. The notification email will come seven, three, and one day before a file is set to be unshared.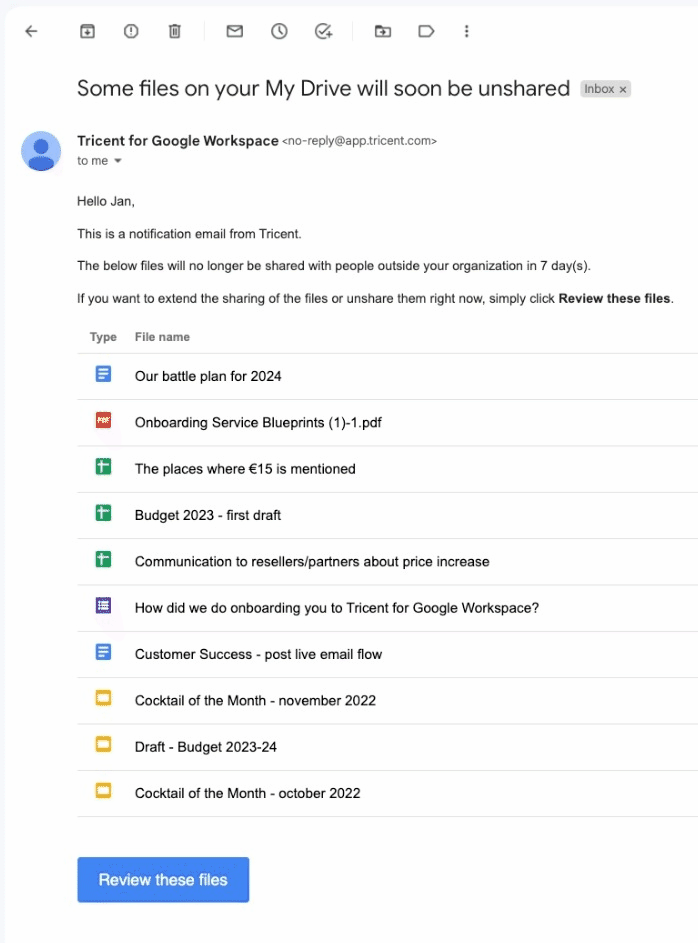 The email notifications list the files about to be unshared and the date it will happen.
If you want to extend the sharing of a file or unshare it right now, simply click the blue button Review these files.
Extend or stop the sharing with one click
When you click Review these files you'll access the Tricent app in your favorite browser, where you can stop or extend the shares with a few clicks.
Simply tick the files that you want to unshare or extend and use the buttons that pop up below the list. If you just need to unshare or extend the share of one file, simply use the icon in that row.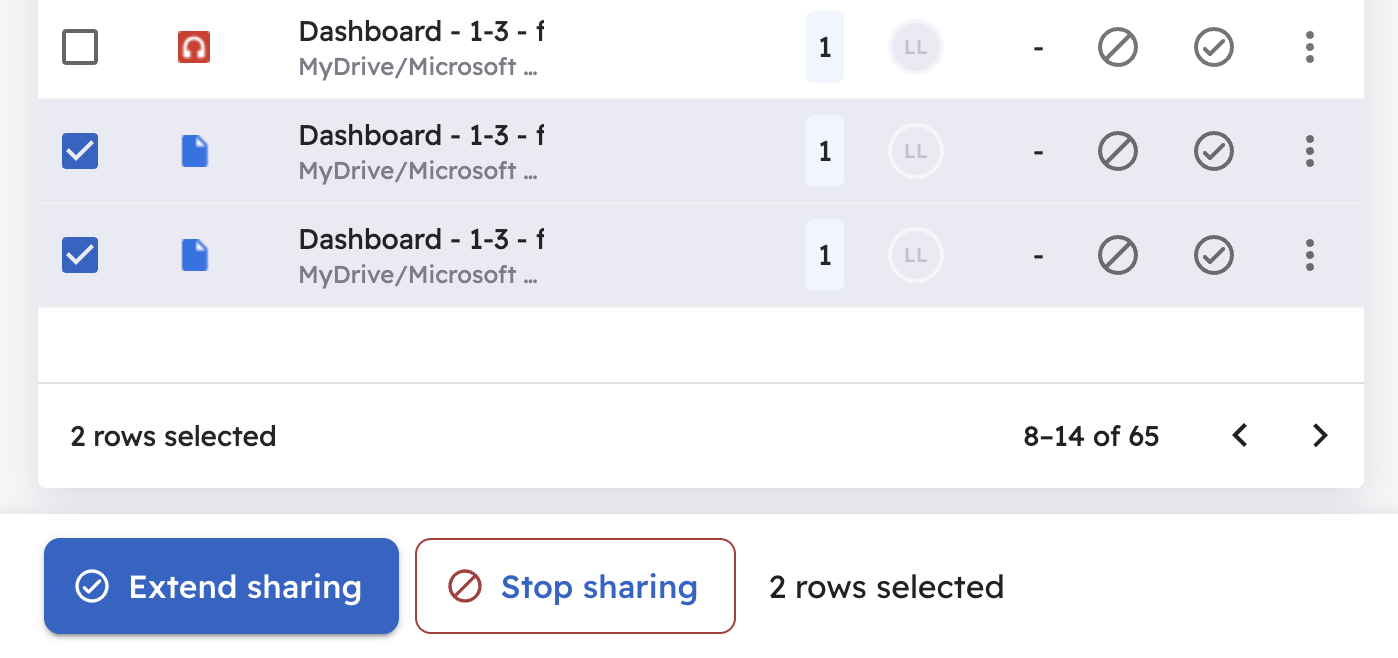 When you extend the sharing of a file, it will be extended for a set time period chosen by your organization's administrators. Once the extension period runs out, the file will once again become part of the cleanup cycle.
Note that you can also access the cleanup list in Tricent directly from your mobile device. This makes reviewing your shared files a lot easier if you access the notification email on your phone or tablet.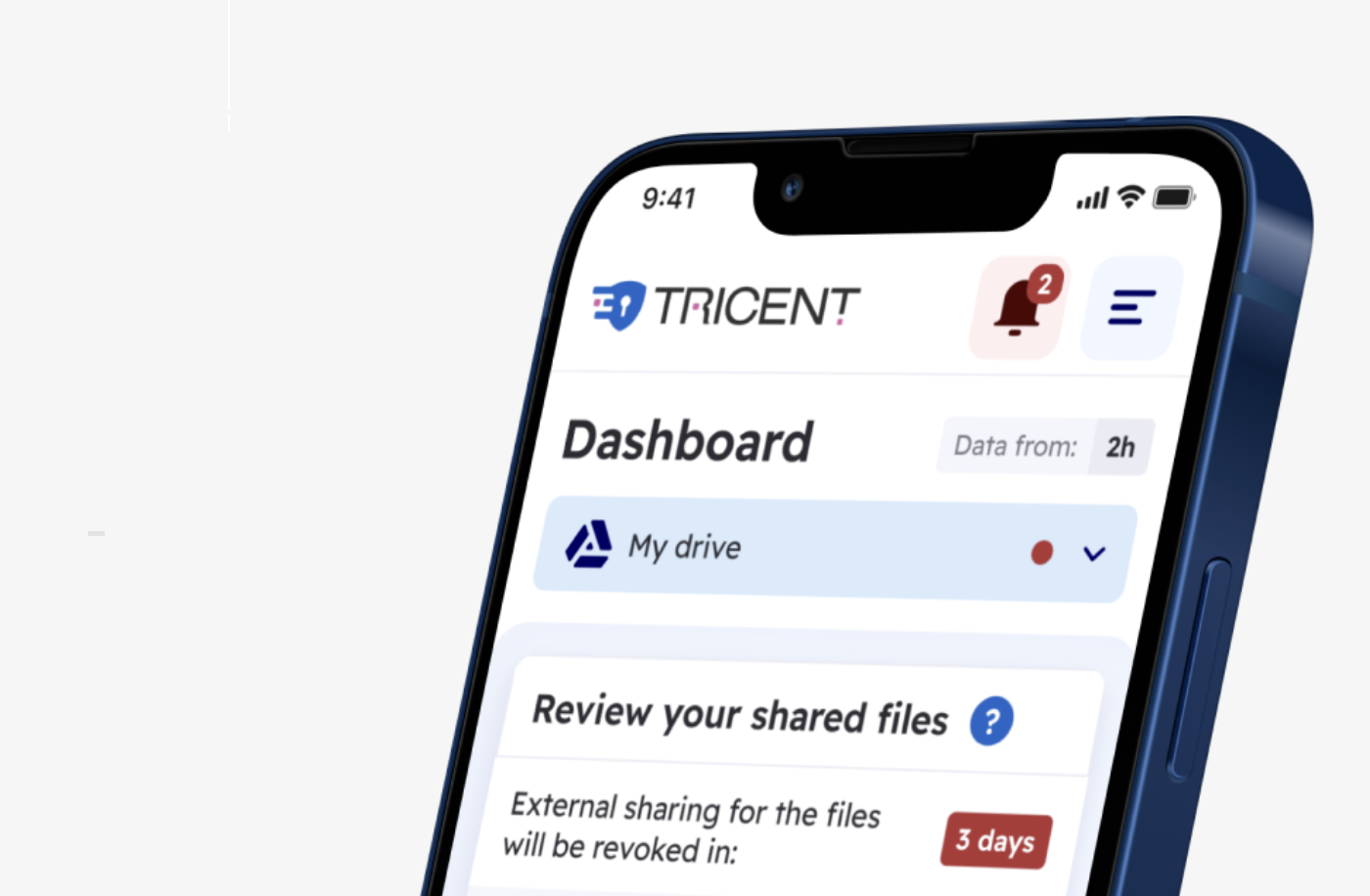 You can learn more about the Tricent browser app by clicking right here.
Is that really it?
We have now taken you through the basics of using Tricent, and, yes, it's that simple.
Remember that if you prefer not to take action, that's totally fine. Tricent will run in the background to ensure that files don't remain shared forever.