4 minute read
Being a delegated administrator in Tricent means that your administrators have asked you to help clean up one or more areas of your organization that you have special knowledge of. That part of your organization is called an organizational unit - or OU for short - in Google Workspace terminology.
As a delegated administrator, you can add exceptions to the general cleanup settings for just that one organizational unit - or units if you are delegated administrator of multiple ones. You can also get insights into sharing habits and see event logs for those users.
Access to more features in Tricent
As delegated administrator, you have access to:
Cleanup settings at delegated unit level
Users settings at delegated unit level
Event logs at delegated unit level
Insights into sharing habits at delegated unit level
This means that you have access to two more areas in Tricent: Insights and Settings. In addition to these two areas, you can also access features in History that ordinary users cannot.

History
In History, you have access to Rollback and Event log.

Rollback
This is the list of all the shares, unshares, and extension activity that you or Tricent's cleanup engine has carried out on your own shared files. From here, you can search for and roll back the changes if needed. So this is not an area that has anything to do with your role as delegated administrator.
Event log
This section provides a full overview of all events across your organization. If you are delegated administrator, you will see the events of those organizational units only.
An event is an operation that has been started by a user, an administrator, or by the scheduled cleanup engine.
Once you have a relevant list, you can export it to a .csv file using the Download button.
Read more about the Event log here.
Insights
In this area you can search for a specific subset of shared files, look into permissions, and much more.
When you have found results that you want to further analyze or present to parties with no access to the Insights area in Tricent you can simply export them as a .csv file by clicking the Download button.
Read more here.
Settings
In this area you have access to two sections My Drive cleanup and Users and delegation.

My Drive cleanup
As a delegated administrator you can add an exception from the global settings to the users in the organizational units that you are delegated administrator of. These settings will override the global settings.
1. Start by clicking the blue button Add Exception.
2. Now select the organizational unit or group that you want to apply the exception settings to. You can only choose between the units you are delegated administrator of.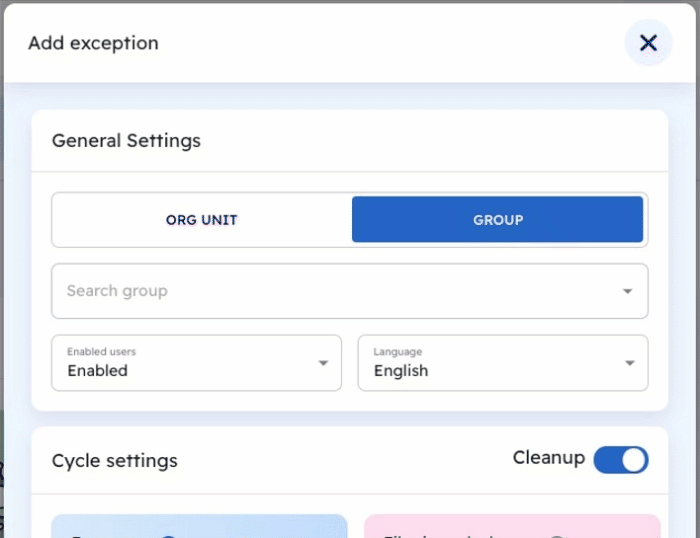 3. Set whether you want to enable the users and pick the language setting for the exception.
4. Now you can add the exception settings:
| | |
| --- | --- |
| Frequency | This is the number of days that you want between the cleanup engine running. Prior to the engine running, notification emails go out to the users. The emails let the user know that cleanup is coming and give them ways to extend or stop the sharing straight away. |
| Files in each cleanup | This is the amount of files users are given to consider in the notification emails of each cycle. We recommend 8-14 files per cycle. This amount makes it reasonably manageable for the users to get an overview while still making progress in their cleaning. |
| Sharing extension period | This is the number of days the users can extend the sharing of a file at a time. You may want to think about the normal duration of projects in your organization when deciding how long the extension period should be. |
| New files grace period | This setting introduces a grace period for newly created files. During this time period files won't be eligible for cleanup. |
Save the exception by clicking Add Exception.
You now added the exception to the list. Use the trashcan and pencil icons to delete and edit the exception.

Users and delegation
This is a list of all the active users in your delegated organizational units.
Use the Search field to locate individual users by name or email address or sort the list to reveal, for instance, the most sharing users by clicking the column headers.
Clicking the pencil icon (

) on a user will pull in a side panel that goes into more detail on the user.

You can also download a .csv file of the list using the blue Download button.