3 minute read
In the tab Export in the section Insights you can search for a specific subset of shared files, look into permissions, and much more.
When you have found results that you want to further analyze or present to people with no access to the Insights area in Tricent you can simply export them as a .csv file by clicking the Download button.

Searching and taking action
You search using two parameters:
Owned by Who owns the shared files? Are you searching for shared files owned by a specific user? Or maybe files on a certain shared drive?
Aggregate by Which entity do you want the list to examine? Do you want to see which domains the files are shared with? Or maybe which specific users?
When you choose Owned by, you will be asked to select which user, shared drive etc. you want to search for. Note that you can add more than one.
Once you have set up your search parameters, click Search.

You can use the search field if you want to narrow down the results.
Certain results come with the possibility to do something about the sharing right away. If, for instance, you have found a specific domain and want to unshare everything shared with it, you can use the three dots on the right side of the row to go straight to Domain and email cleanup.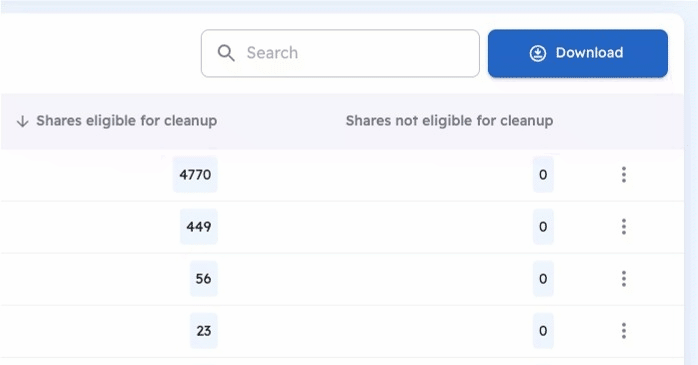 In Domain and email cleanup the domain will already be chosen and you can precede directly to an unshare of everything shared with it.
Understanding the results
At the top of the results list, you can see the date and time the data was drawn.
The results themselves have three columns: Name, Shares eligible for cleanup, and Shares not eligible for cleanup.
Whether shares are eligible for cleanup or not depends partly on the settings you and your admin colleagues have configured under Settings and partly on what the user has extended. For instance, if you have added an external domain to Trusted domains then files the users share with that domain will not be considered eligible for cleanup.
If a shared file is eligible for cleanup it will appear under Files in the user's Dashboard.