2 minute read
The tab Global settings has two sections: Trusted domains and Language.
Trusted Domains
By default Tricent deals with externally shared files, but sometimes there are external domains that you want to treat as trusted or internal. Whenever we sync with your Google Workspace, we get the secondary and alias domains under your primary domain and add these to the list.
If you want to add other domains manually, simply enter the domain and click the blue button Add.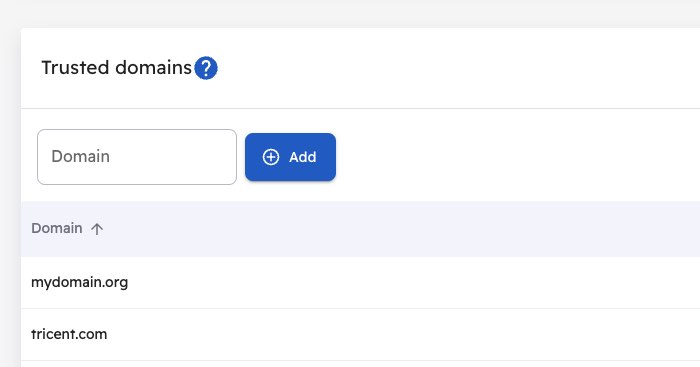 To delete a manually added domain from the list, simply click the trash can icon.

If you want to keep a domain in the list of trusted domains but temporarily include it as an external domain, you can simply flip the switch in the column Include in cleanup. This will once again include the domain in the statistics and cleanup cycles.
You can also choose to include all trusted domains, by using the switch Include all trusted domains in cleanup. This will flip the switch on all domains in the list, so that all of the domains will be included in cleanup.

Language
The language chosen here is the global one for everyone in your organization and will influence both the user interface language in the app as well as the language used in the notification emails going out in connection with the cleanup.
If you choose User language, the users can choose their own language in the app.

Note that there is also a language choice in Exceptions, which may override the language choice for the users affected by that exception.
More into video than reading?