2 minute read
The tab Global settings has two sections: Account settings and Trusted domains.
Account settings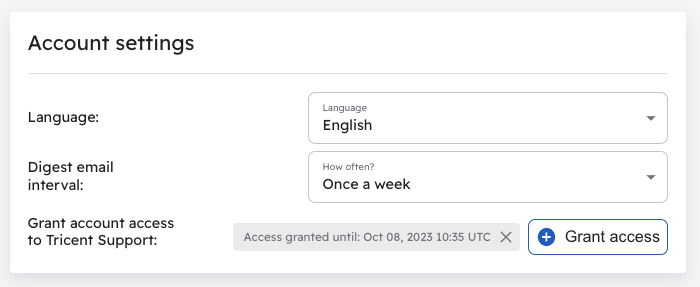 Language
Here you can choose the default language for everyone in your organization. The choice will influence both the user interface language in the app as well as the language used in notification emails.
If you pick User language, the users can choose their own language in the app.
Note that there is also a language choice in Exceptions, which may override the language choice for the users affected by that exception.
Digest email interval
This sets the time period between digest emails. Digest emails are available to users with the Super Administrator or Administrator role, who can subscribe to them by clicking their avatar in the upper-right corner and going to Preferences.
The digest email compares key sharing numbers from the recent period with the one before it - in order to track trends in sharing events. Tricent takes a snapshot of your organization's sharing data every week (early Saturday morning), and that data forms the basis of the email. So if you set a monthly recurrence, the content of the email will compare the latest weekly data snapshot with the one that was taken four weeks prior.
Grant account access to Tricent Support
It may be necessary for Tricent Support to have access to your account if they are carrying out troubleshooting work. Granting access here will allow Tricent Support to log into Tricent and see what a user from your organization with the role Super Administrator would see.
Remember to click Save settings after choosing language, setting digest email interval, or granting access.
Trusted Domains
By default, Tricent deals with externally shared files, but there may be external domains that you want to treat as trusted or internal. That a domain is trusted means that the cleanup engine won't touch files shared with it.
Whenever we sync with your Google Workspace, we get the secondary and alias domains under your primary domain and add these to the list as trusted. These domains cannot be deleted from the list.
If you want to add other domains manually, simply enter the domain and click the blue button Add.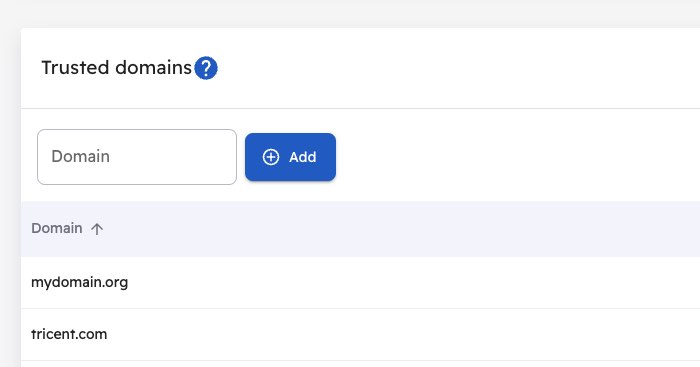 To delete a manually added domain from the list, simply click the trash can icon.

If you want to keep a domain in the list of trusted domains but temporarily include it as an external domain, you can simply flip the switch in the column Include in cleanup. This will once again include the domain in the statistics and cleanup cycles.
You can also choose to include all trusted domains, by using the switch Include all trusted domains in cleanup. This will flip the switch on all domains in the list, so that all of the domains will be included in cleanup.

More into watching than reading?