Feature release date
19 April 2023
What's new?
1. Locating files is now easier as you can apply type filters to the lists in the Files area. We've also converted the Show only extended sharings slider into a filter. This enables you to carry out more refined and multi-dimensional searches.
2. The search parameters in Export have been switched around and renamed to make the setup of the search more intuitive.
3. In the Files and Dashboard areas we've hidden the bulk operation buttons Extend shares and Stop sharing. If you select one or more files they will now appear at the bottom of the list instead. This makes for a cleaner look.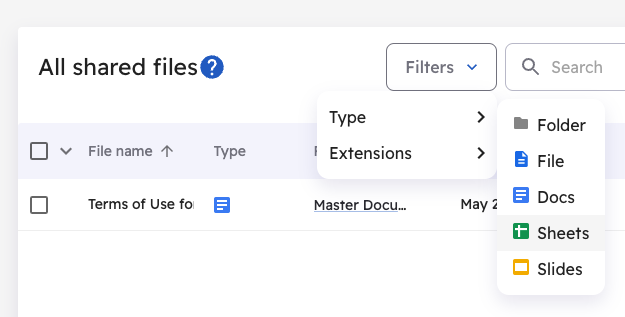 Why have we done this?
These changes are all about making users more effective in their use of Tricent. We've talked to many users who would like a cleaner experience when sifting through their file data.
For example, many users want to be able to review all their shared folders. With the addition of the file type filter we've made this possible, as well as unlocking other ways to find the right data to review.