Don't worry - we are not here to make life more difficult.
Tricent for Microsoft 365 is a simple way to help you and your organization keep track of any externally shared files and teams in Office 365. You see, when you share a file and team with people outside your organization, there is no expiration date on the sharing.
Tricent provides you with an overview and enables you to easily remove external shares that are no longer relevant. Our tool helps you manage the sharing, but cannot delete any files or teams.
One or more of your colleagues will act as administrators and set up some simple rules for the automatic cleanup of external shares. When you need to act on a share, you'll get an email about it. And with a few clicks, you can easily extend the sharing further, if needed.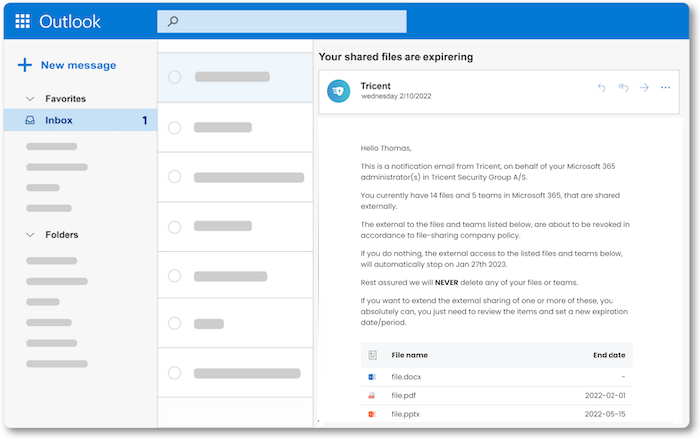 And if you ignore the notification emails, the system will go ahead and un-share the files or the teams for you. Nothing more for you to do. And hey, you can always re-share the unshared file or team, if you need to.
Easy, right?
Want to learn about the notification emails? Click right here.