6 minute read
The Settings area in Tricent is only available to the Super Admin role and is divided into four sections.
User-driven cleanup - settings for the cleanup process involving your users
Automated cleanup - settings for the base automated cleanup process
Trusted domains - the domains that you want Tricent to treat as your own
Other settings - set the email you want us to communicate with you
Each of these four sections provides you with powerful tools to automate your cleanup process and involve your end-users.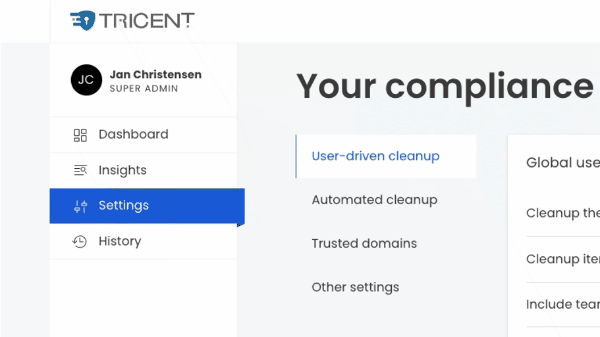 User-driven cleanup
Here you can add domains that you want Tricent to treat as your own. This means that files, folders, and teams shared with users on the domains you list here will be excluded from the cleanup. Users on these domains will also, for instance, appear as Trusted Users on the Dashboard.
To add a domain, simply click the blue plus button, enter the domain and click Add domain at the bottom of the side panel. The format is domain.suffix.

To remove items from the list, click the
icon next to the domain.
Once you have added or removed the domain or domains, click SAVE SETTINGS.

Other settings
In Other settings you can add the email address you want us to contact you on. We will only use this address to send you product updates and technical information.
Note that we communicate incidents and maintenance windows through our operational status page at status.tricent.com. We encourage you to sign up for notifications on that page by clicking the blue button Subscribe to updates.

Alright, that was Settings.
Want to learn about the History section? That's right here.